How are your employees performing at work? If performance is lackluster, employee disengagement may be the root cause.
That's why understanding engagement and performance management is critical to success. It's up to the organization and its managers to fuel engagement, which results in improved performance and productivity.
Why does employee engagement matter?
Companies with high engagement experience…
16% higher profitability
37% lower absenteeism
2.5 times higher revenues
65% reduction in turnover
18% increase in productivity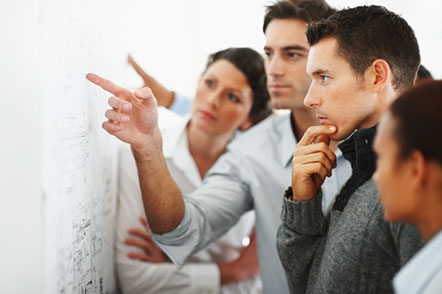 These statistics make a strong case for investing in employee engagement!
Many contemporary organizations are placing a greater emphasis on their performance management systems as a means of generating higher levels of job performance. We suggest that producing performance increments may be best achieved by orienting the performance management system to promote employee engagement. To this end, we use a new approach to the performance management process that includes employee engagement and the key drivers of employee engagement at each stage. We present a model of engagement management that incorporates the main ideas of the paper and suggests a new perspective for thinking about how to foster and manage employee engagement to achieve high levels of job performance.
Three key drivers of engagement
Connection:

An employee's connection to their boss, company and job

Recognition:

Compensation, appreciation and acknowledgment of achievements

Performance:

Development, feedback and professional growth
Performance management can improve all three of these drivers, directly improving employee engagement. And statistics support this connection:
High-quality formal reviews increase employee performance by 25% and employment engagement by 35%
43% of highly engaged employees receive feedback at least once a week
Why direct managers exert the most influence?
Because direct managers are involved in the day-to-day performance management of employees, they are critical to driving engagement. To engage employees and improve productivity, managers should:
Give high-quality informal feedback
Accurately evaluate employee performance
Articulate clear organizational goals
Create clear work plans and timetables
The Barbelo Group's best practices can help managers have a direct influence on employee engagement—and the organization's bottom line.
Employee Survey/ Assessment
Employee feedback is crucial to your organization's health. Through:
Employee satisfaction surveys
Organizational culture surveys
Employee feedback systems
you can create a healthy corporate communication that will lead to greater:
Employee satisfaction
Employee retention
Employee loyalty
With this information you'll be able to quantify how well your employees embrace your organizations goals, values, and mission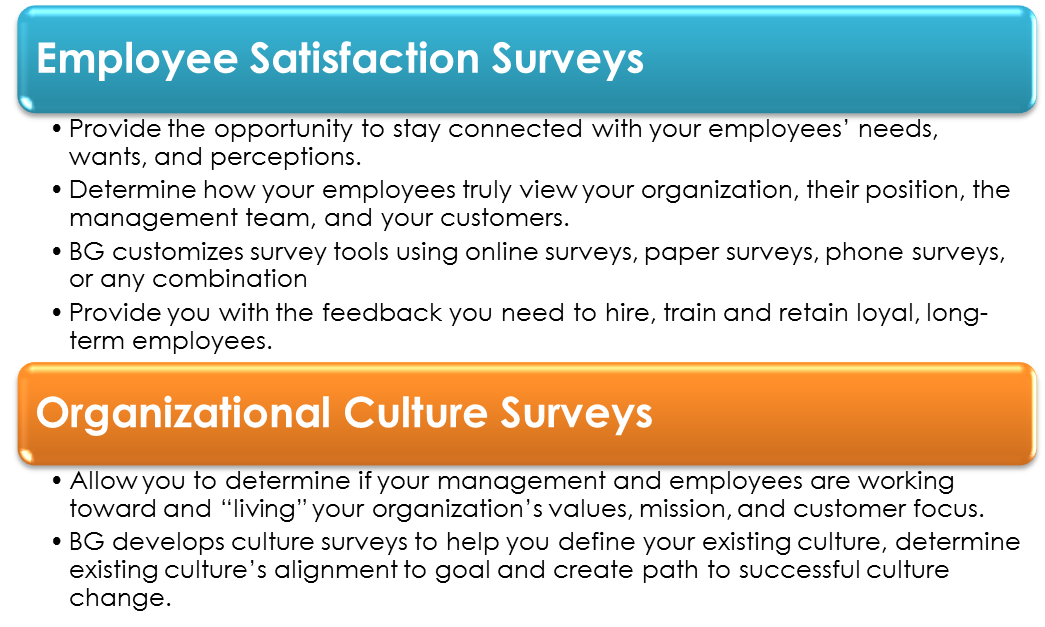 A snapshot of your employees' perceptions at any given time
Valuable tool - important to develop a continuous employee feedback system
Keeps you in communication with your employees and their changing perceptions, wants, and needs.
Employee satisfaction can decrease instantaneously with changes in leadership, corporate decisions, or added tasks.
A well-developed employee feedback system will prevent small issues from ballooning, keep rumors to a minimum, allow employees to share their frustrations, and encourage contribution of ideas for improvement.
The continuous nature of the feedback system provides comparative data, a long-term look at successes and failures, and a record of both positive and negative trends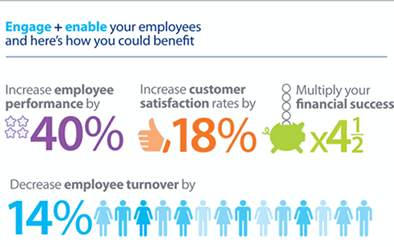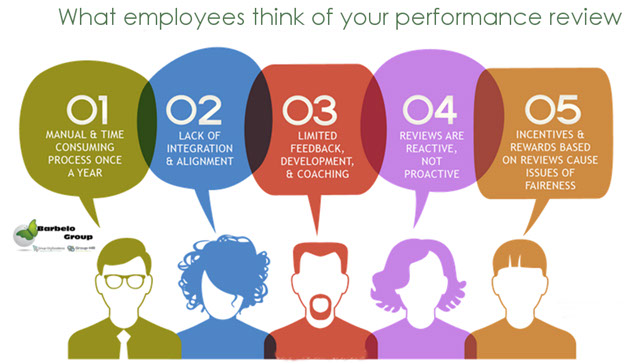 Full Support Throughout the Assessment Life Cycle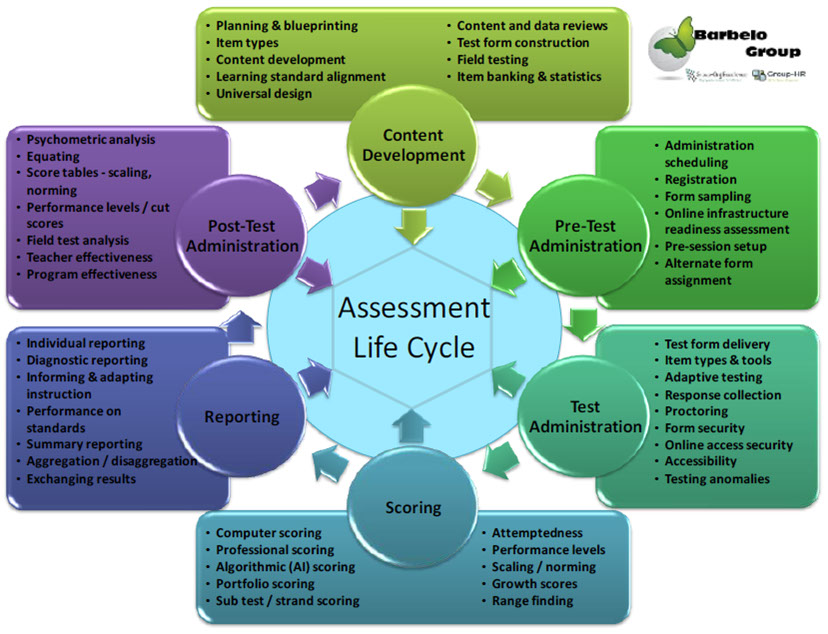 Performance management is the greatest catalyst to successful talent management and it is often the most poorly implemented. Done well, it enables the execution of business strategy by creating alignment, accountability and focus.
Barbelo Group on Performance Management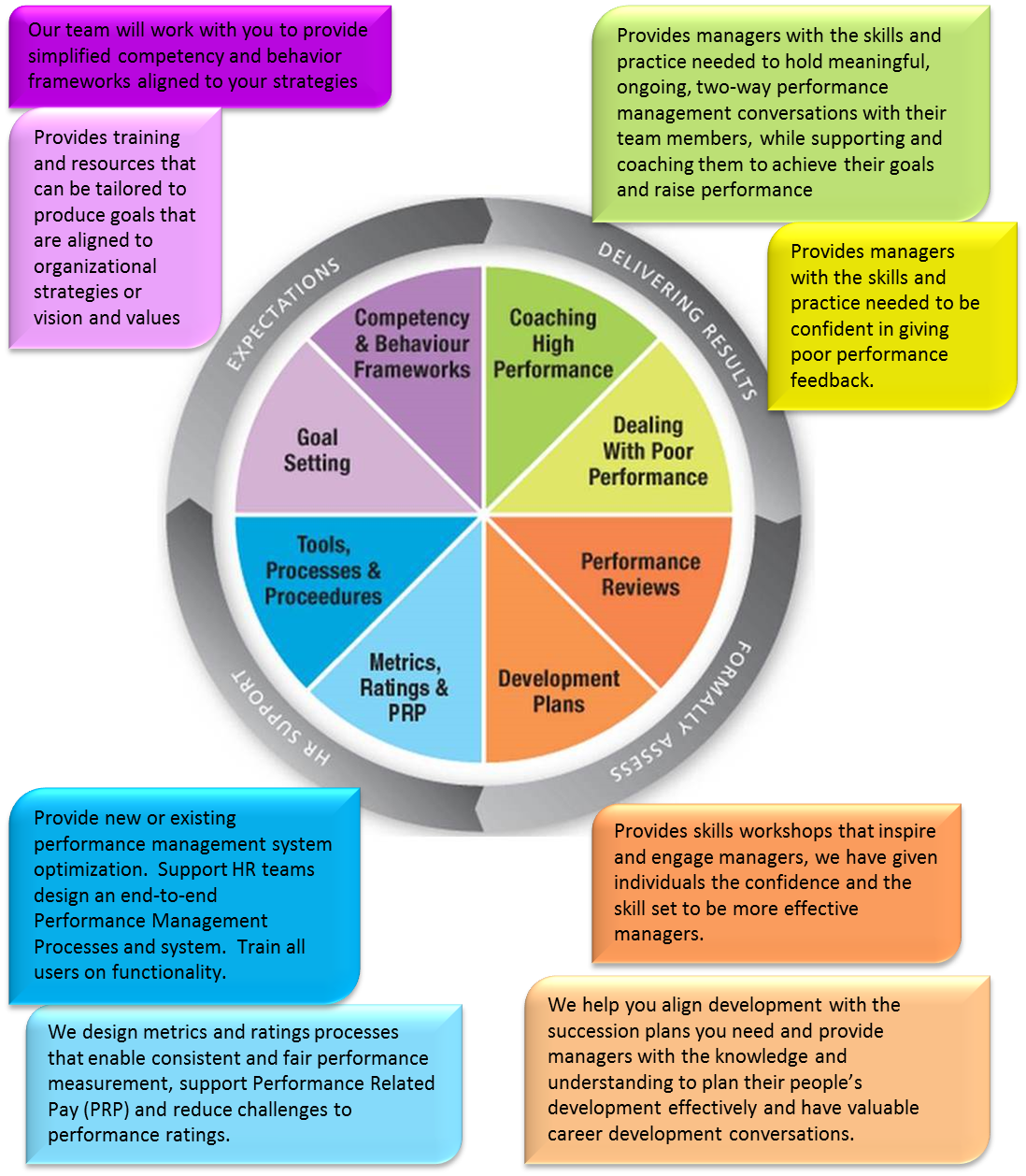 Performance Management Services & Benefits
A custom working session that guides leaders through an effective and proven execution process for turning strategies into results.

High-impact training that gives managers and their team members the skills to set and gain commitment to both the "what's" (measurable goals and accountabilities) and the "how's" (competencies), and ensures they are linked to overall business goals.

Managers also learn to evaluate behavior and conduct meaningful performance reviews.

Drive understanding of what a good performance management system can do and what it takes to develop or fix one.

Uncover the links between performance management and other organizational systems.

Develop specific strategies to ensure leaders and associates understand the performance management system and are working toward the same results.

Overcome organizational barriers and challenges to implementing a successful performance management system.
More Reasons to Partner with the Barbelo Group
We have developed hundreds of training including game boards, visuals, learning maps and computer based training

Our unique ability to put together the best team to build impactful learning programs and our successful track record in measurable business improvement through Organizational Development makes us an enviable partner
As a client, you will:

Get a world class training based on proven studies and industry best practices
Have access to leading experts in the field of Business, Finance, Banking, Gaming, Technology, Organizational Behavior & Development
Achieve long term value results (business & team members) from the program and cost savings on program ownership
Have control of future direction and measure results
Decrease cost of developing and designing a program compared to building in house
Key Results and Impact
Participants experience, understand, & internalize key business concepts that are critical to knowledge based & service based companies and understands:
The inter-connected relationships of people, customers, & company processes
How customer satisfaction affects the bottom line
The importance & impact of maximizing team member utilization & productivity
The definition and context of a variety of financial terms
The true cost of team member turnover & lost customer
How to calculate profit-per-team member
Understanding how their daily decisions impact the company strategically and financially.
Team members at any level –

Understand flow of capital in the company
understand how the business generates profits today
Understand how it needs to generate profits in the future
Understand clients' business / personal issues
See the "big picture," - meaningful contributions to the business.

Common vision throughout the organization
A shared baseline understanding of financial- and management concepts
Enabled team members Introduce or reinforce an organization's own financial models and value-based management systems
Sharpen business acumen of team members.
Improve management financial acumen.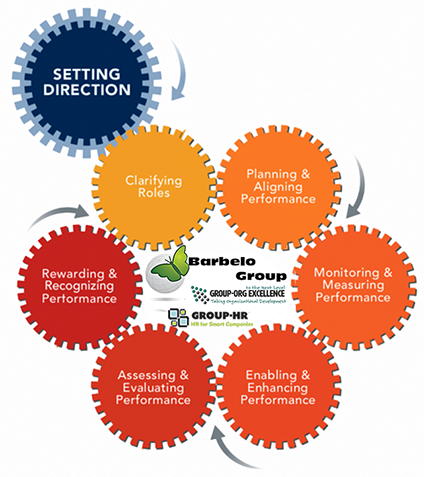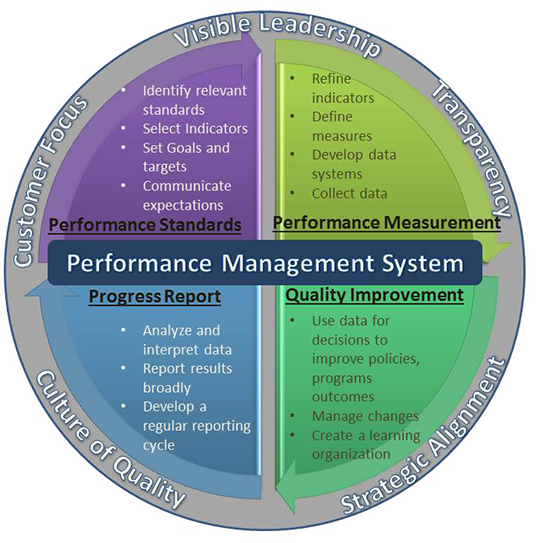 Copyright © 2015 Barbelo Group, | All Rights Reserved | Powered by Barbelo Web Designs